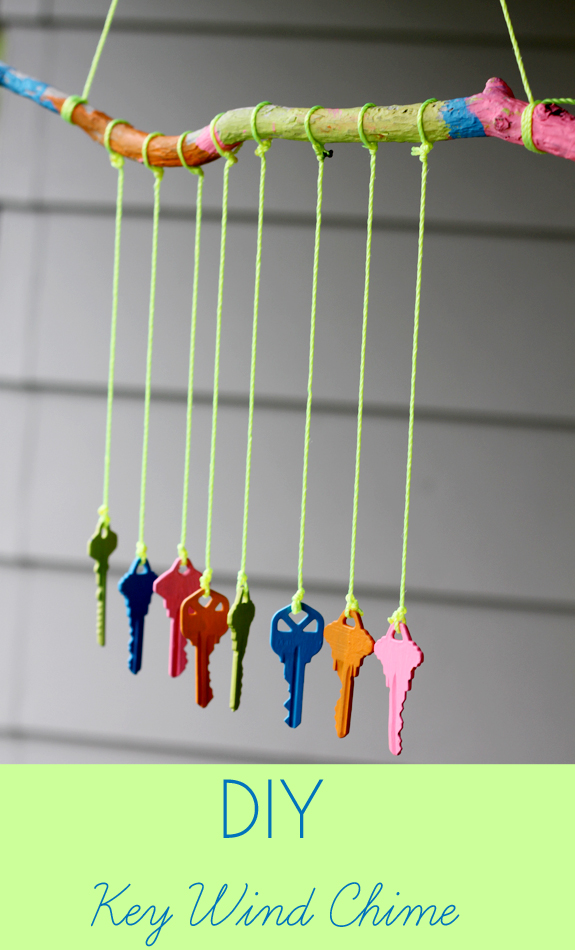 Gifts, especially those created by kids, don't have to cost a lot of money.  In fact, the perfect materials for a thoughtful gift may be sitting in your recycling bin.  Giving old items new life is not only green, it's a lot of fun.  It is so cool to take something destined for the trash and turn it into something beautiful and useful.  And when we do a craft like this with our children, we are teaching them to see "garbage" in a new, creative light.  With little more than a handful of old keys, a piece of drift wood, string, and paint, my son and I created this DIY key wind chime.  It would make a lovely gift for anyone who has a garden or balcony, a birthday present for grandma, a house warming gift for a new neighbor, and of course Mother's Day is just around the corner.
Want to know how to make your own?  It's simple!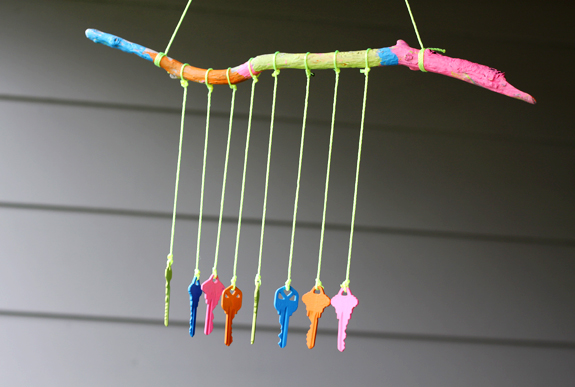 Old Key Wind Chime Tutorial
You'll need:
at least 5 old keys
a piece of drift wood or stick
string or fishing line
optional: acrylic paint
How to:
Optional: Paint your keys and stick.  Choose a few coordinating colors and have your child paint the keys and stick.  Our keys took two coats, let the first side dry before flipping and painting the other side.
Tie a piece of string to either end of the stick so that you have a way to hang it.
Tie a piece of string to each key.
Tie the keys to the stick making sure that they are close enough to each other that they will chime when the wind blows them.
Gift, hang, enjoy!
I hope this project inspires a little crafty recycling in your home.  I'm sure you and your little ones will love turning trash into treasure.  And whoever receives your thoughtful handy work is sure to be pleased as punch.  I know they make me smile every time I enter my garden.
Here's to crafting and giving green!