Homemade gifts are perfect for Mother's Day.  Moms love to get crafts and cards that their kids have made so this washi tape vase kids craft is sure to be a hit!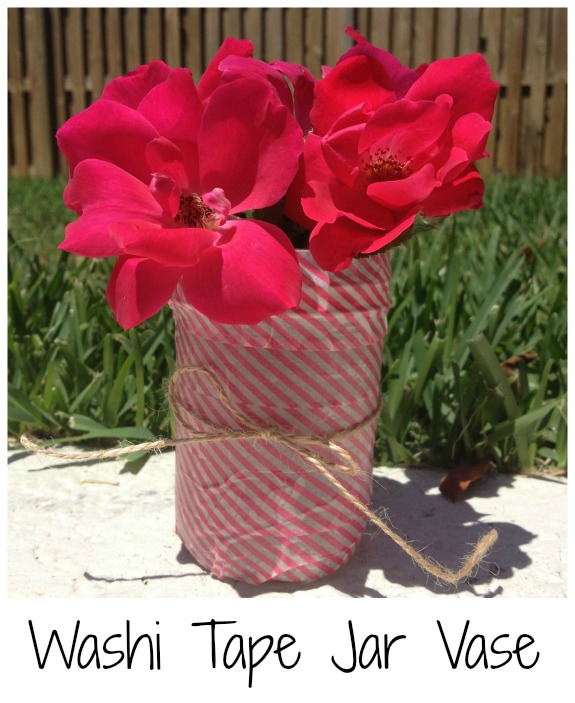 Making a washi tape vase from a Mason jar or jelly jar is so simple that even toddlers can do it with help!  The best part is that you can customize for your mom by choosing a washi tape design that she would love.
How to Make a Washi Tape Vase
Choose the jar.  We have a stash of Mason jars and jelly jars that we have saved from recycling that we picked from for our vase.  If you don't have one you can buy a set of Mason jars at grocery stores, craft store, Target, or WalMart.

Pick out your favorite washi

tape

. 

They have tons of choices online, at the craft store, or even at Target.  My daughter thought the pink stripes would be perfect for my bathroom counter.

Cover the jar with washi tape.  We found that taping a piece around and then ripping it off the roll to be the easiest method.  My daughter made sure that all of the seams were in the same place and we turn that to the back.
Jazz it up with a piece of twine or ribbon.  It would be cute to hang a little charm on it too!
Add flowers, either real or homemade, and give to mom!
The washi tape vase is a super cute homemade gift on its own, but it would also be the PERFECT addition to a breakfast tray! 
Breakfast in bed with a homemade vase?  Sounds like a fantastic way to start Mother's Day!